The spray tan is not news to people from any part of the world. While people in the tropical countries get a tan quite naturally and effortlessly, some of us crave that natural-fake bake. But what's with all the jazz about it? Why can we never get over this? It's not rocket science. Nothing defines, lifts, and brings about those curves and cuts like a tan do. You might wonder what's the point of paying for a spray-on tan when you could go outside and soak up some vitamin D for free.
While it's true that spray tans will cost you much more financially, they'll cost you far less in terms of potential sun damage: premature aging, dark spots, sun spots, and even skin cancer. Spray tanning, on the other hand, offers you a safe, sunless glow. And unlike the sun damage wrought by UV rays, spray tans are temporary.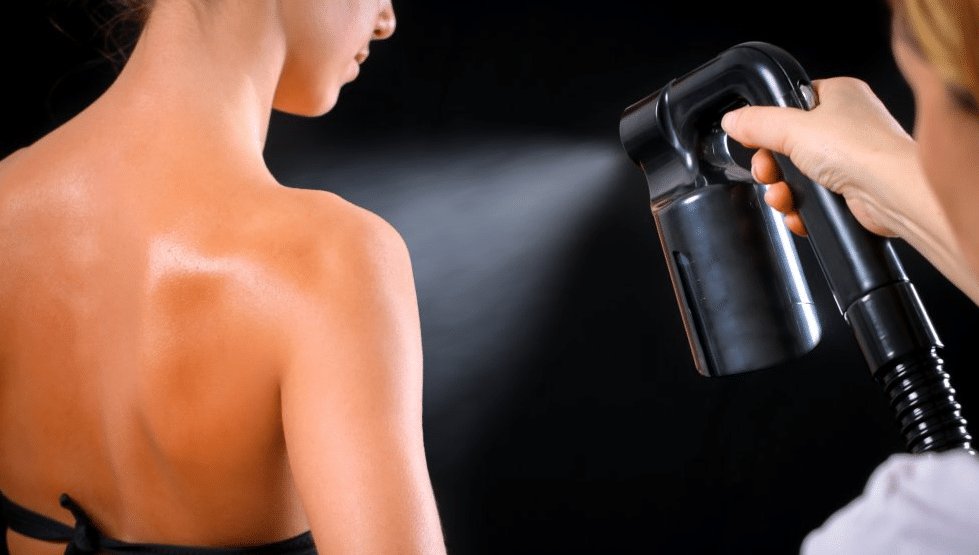 "DHA, the active ingredient in sunless tanners, is derived from sugar—mainly from beets—and reacts with the amino acids on top of the epidermis, turning it brown," Kristyn Pradas, celebrity tanning artist whose clients include Ariana Grande and Ashley Graham, tells SELF.
"So as your skin cells shed themselves, your sunless tan sheds itself, this is why a sunless tan only lasts between 7 and 10 days." So, when a real tan is not possible, we don't worry – because the cosmetic industry has a solution for it all, and it is only getting better. Let's tell you everything there is to know about spray tanning. Keep scrolling!
How Long Does A Spray Tan Last
You can expect a spray tan to last between seven and 10 days. But as Claghorn revealed, your skin routine before and after the treatment can either extend or limit the life of your bronzed look. "Pre-tan prep and post-tan maintenance is the most influential way to shorten or more importantly, lengthen the average life of a sunless tan," Claghorn told T&C.
How To Make Your Spray Tan Last Longer
How long spray tan lasts is based a lot on what happens before you enter the salon and way before you get your spray tan. The tantemple.com.au in Bondi offers this before and after guide.
Prior to your spray tan session, take a shower and exfoliate to ensure your skin is clean from deodorant, perfume, moisturizer, makeup, dirt, and other substances.
Wear loose clothes (nothing too tight) to your appointment.
After your tanning session doesn't use soap or body wash and don't wash your hair.
Avoid strenuous activities, which may make you sweat after the session.
Avoid scrubbing your skin too hard in the shower during the week after.
Pat down gently with your towel after showering and avoid long hot showers or baths.
What To Do Before Your Spray Tan
A great spray tan starts long before you walk into the spa or tanning salon. Here's how to prep for your appointment.
Schedule Your Appointment Around Your Period
In a weird-but-most-likely-true turn, spray tanning the week before your period may not take as well as tanning after your period. There isn't any scientific evidence to back it up, but a spray tan guru interviewed for marieclaire.com swears by the tip.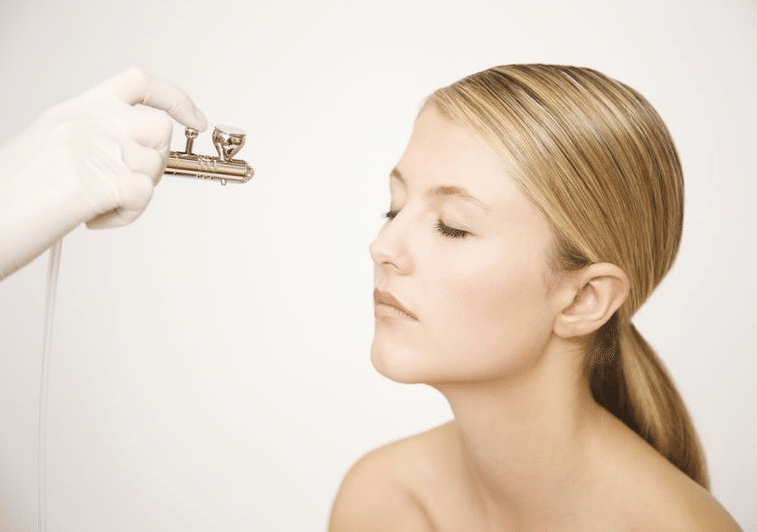 Exfoliate Every Day For Three Days Before
Physical exfoliating techniques like body scrubs, loofahs, and dry brushing remove dead skin cells that cause streaking and flaking. Don't have any of these options? A washcloth works great, too.
Don't Use Chemical Exfoliants Or Oil-based Products
Chemical exfoliants use ingredients like retinol and glycolic acid to encourage exfoliation. Skip these for at least 24 hours prior to spray tanning to keep the exfoliant from taking off your spray tan, too.
Norvell Spray Tan
Norvell, a major leader in the tanning supplies industry, offers a wide range of sunless tanning products that allow their customers to effortlessly achieve a flawlessly even, healthy, youthful glow with every application. With a company mantra that states, "Healthy skin tans best," they successfully live up to those words through every single product they develop and put into the market.
Read Also: Dermaplaning With Oil And Benefits
Customers around the globe recognize and appreciate Norvell for high-quality products at are eco-friendly and truly good for their skin. Some of the most popular and widely utilized spray-on tan products include Dancing with the Stars, Venetian Spray Tan Solution, the One Hour Rapid Tan Solution and the Norvell Organic Sunless Solutions.
Each product created by their sunless tanning experts come in a wide variety of tanning level options, thereby enabling every consumer to achieve the exact color and skin tone they are looking to achieve. View the tanning development chart shown below.
Reviews
This is a great product! I do not own a spray tan machine, so I dumped out an old bottle of sunless tanner that was in a pump bottle that dispenses to foam. They applied it with a mitt and I got a great tan, no streaking and it only took about 15 min to apply.
I have fair skin with freckles, and this color has been the best of all self-tanners I've tried. The picture is of my side where my bathing suit was during spraying, and this is approximately 12 hours after spraying and having a morning shower.
How Long Does A Spray Tan Last?
Although the average spray tan is advertised to last up to 10 days, it really depends on how dark you're trying to go. For example, Lighter shades may last up to five days. Medium shades typically last seven or eight days.
How Do You Get A Spray Tan?
Spray tanning is a form of self-tanning (or sunless tanning) where a fine mist is sprayed onto your body. This mist has an ingredient in it called Dihydroxyacetone (DHA) that interacts with your own skin's chemistry to turn it tan, or bronze.
Do Spray Tans Look Natural?
It's also worth mentioning that spray tans can be used to even out skin imperfections such as stretch marks, blemishes, etc. So, in answer to the question, "do professional spray tans look natural?" Yes. Yes, they do… if you go to the right salon!
What Do You Wear When You Get A Spray Tan?
If your clothes are too tight, it can rub the tan right off. It's best to wear loose sweat pants and a loose t-shirt or sweatshirt. Absolutely NO jeans, socks, or leggings. Wait until after your first initial shower to wear these.
Read Also: Most Popular Workout Programs For Everyone